About Our Company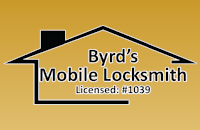 Byrd's Mobile Locksmith offers automotive locksmith, residential locksmith, and commercial mobile locksmith services. Whatever your need, you can rest assured that our services will be completed in a professional and thorough manner by a competent and caring locksmith.
If you need emergency locksmith services such as auto, residential or commercial lockouts, rekeys or installations of new locks and/or dead bolts, we will make it our priority to serve you as quickly as possible. For your ease of mind, our locksmith will arrive in a vehicle marked with our logo and will have identification and license available.
We understand that you have a busy schedule so for non- emergent services we can set up an appointment to assess your residential or commercial security needs which will enable us to provide you better service. We can also set up appointments to perform the required work to meet your schedule.
As your residential or commercial locksmith we will be your security expert. If you're concerned about unauthorized persons being able to enter your home or business, we can repin or re-key all of your locks or install new locks and deadbolts to make sure that only authorized persons have access. In addition, new keys, master keys and a variety of security locks that can be programmed to accept several different codes are all options for your security needs.
We do new constructions, evictions, and foreclosures to provide the needed security for the property. We are able to do key duplications and make new keys for a variety of locks.
For your locksmith needs and your peace of mind contact:
Byrd's Mobile Locksmith-Winston-Salem, N.C.
(336) 408-3401
We will be glad to answer any questions you may have, and we happily accept pre-authorized insurance payments.